Knee replacement has been performed for knee arthritis since the 1970s. It has grown to become one of medicine's most successful, life changing surgeries. Over the years, technology for this procedure has improved in many areas including implant design, surgical tools and technique, preoperative preparation and recovery protocols. The orthopedic industry has made many attempts to improve the knee replacement process, from computer assisted surgery to predesigned bone cutting blocks, to early robotic technology.
Dr. Ballard has used many of these new technologies over the 20+ years he has been in practice, but has found that they did not have long-term impact on a person's knee replacement. As such, he has sought out new technology that will benefit the patient long-term, and believes that robotic assisted knee replacement with the ROSA knee system provides those patient benefits. Dr. Ballard is performing robotic knee replacements with the ROSA system at the Oregon Surgical Institute (OSI) in Beaverton, OR. They are the first facility in the Pacific Northwest to offer this new technology to patients.
What is Robotic Knee Replacement?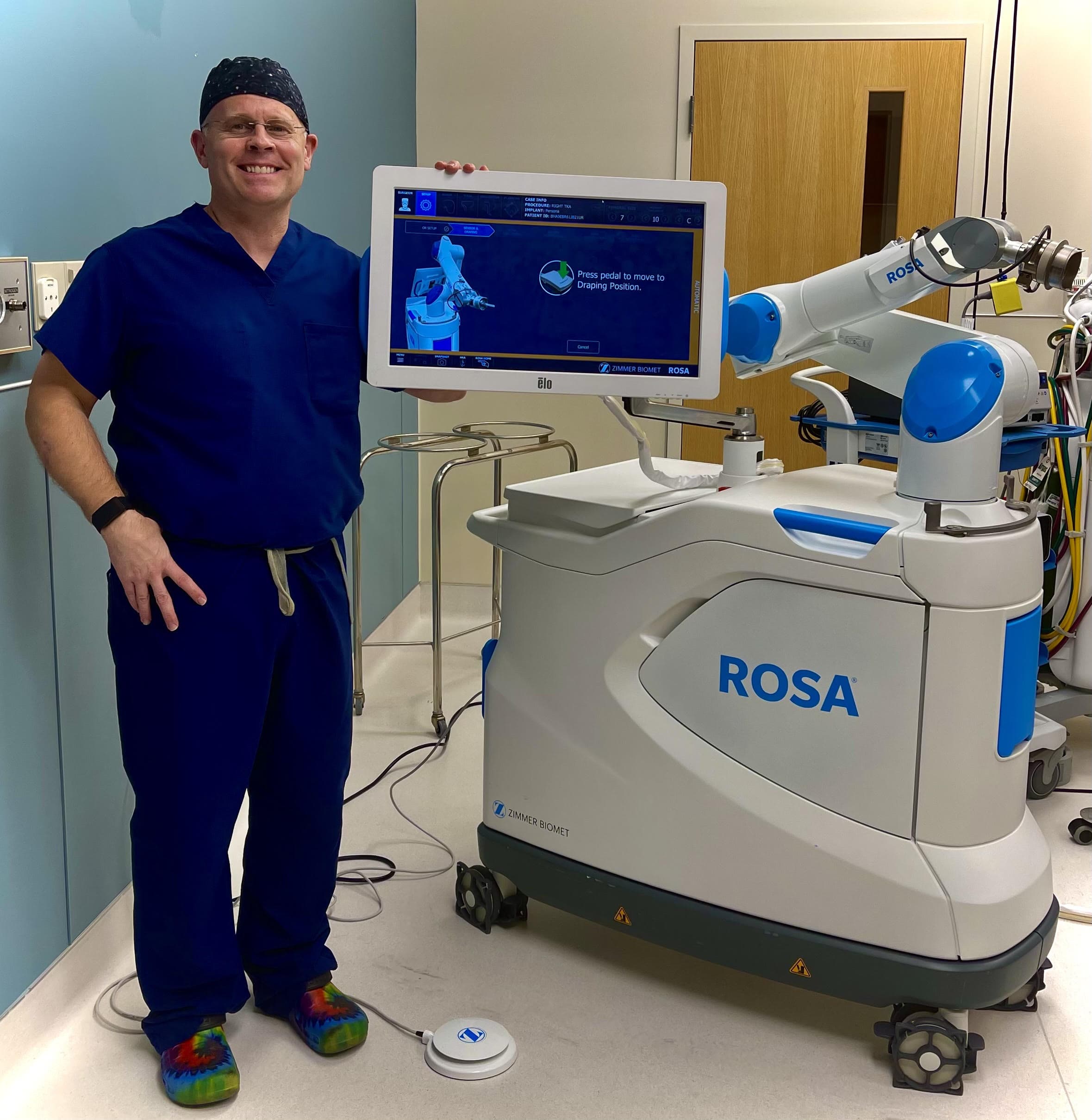 The ultimate goal of a robotic knee replacement is the same as a traditional knee replacement procedure: to help patients with severe knee arthritis regain mobility. As with a traditional knee replacement, the damaged portions of the knee joint are removed and replaced with implants designed to help the knee function properly with reduced pain.

Are you a candidate for total knee replacement?
With a robotic knee replacement, Dr. Ballard uses the ROSA knee system to guide the placement of the knee implant. The ROSA system uses a vast database of human knee anatomy combined with an in office X-ray of your knee specially modified for use by the ROSA planning software. This plan guides Dr. Ballard on where to place the implants and how the knee will respond to the surgery, all before the surgery even begins. It also allows Dr. Ballard to change the plan during surgery if needed. Essentially, patients get a much more customized plan than they would with traditional knee replacement surgery.
Dr. Ballard is now offering the world's first and only smart knee implant. Find out how you can benefit from this innovative new technology.
The ROSA knee system also uses artificial intelligence that will allow the system to continue to improve over time with each new procedure. Because this technology draws information from a large database and an in-office x-ray of the knee, patients are often able to avoid the costly and inconvenient MRI and CT scans required by other robotic knee replacement systems.
It is important to note that the ROSA robot does not actually perform the surgery--this is a common misconception with robotic surgery. Rather, the robot shows Dr. Ballard where to make cuts during surgery and how that will affect the overall results.
Contact Dr. Ballard's office today to learn more about robotic knee replacement and schedule a consultation.
Benefits of ROSA Robotic Knee Replacement with Dr. Ballard
There are several benefits that ROSA Knee offers over traditional knee replacement, as well as other robotic knee systems:
A personalized surgery plan. Each patient is different, and robotic knee replacement allows Dr. Ballard to create a surgical plan that is unique to each patient's anatomy.
More accurate implant placement. Having a personalized surgical plan allows Dr. Ballard to place the knee implants in a very precise manner. Accurate implant placement can improve your overall comfort and experience after a knee replacement in the long-term.
Surgery in an outpatient setting. Dr. Ballard offers robotic knee replacements at Oregon Surgical Center, a state-of-the-art outpatient surgical center. Patients can avoid an overnight hospital stay, and also have a decreased risk of infection because they are not staying in a hospital with sick people.
Potential cost savings. Because the ROSA knee system uses data from a vast knee anatomy database and an in-office x-ray of the knee, patients may be able to avoid the expensive MRI and CT scans required by other robotic knee replacement systems.
Here is how the ROSA Robot works
Recovering from a Robotic Knee Replacement
The recovery process for a robotic knee replacement is very similar to that of a traditional knee replacement.
Because Dr. Ballard performs robotic knee replacements in an outpatient setting, patients are able to return home the day of the procedure. Dr. Ballard and his team use a multimodal pain management system to ensure patients are comfortable upon returning home.
Dr. Ballard will tell you when it is safe to resume your normal activities. Full recovery from a knee replacement takes an average of 6-8 weeks.
Robotic Knee Replacement in Oregon City & Tualatin
Dr. James Ballard is a board certified orthopedic surgeon with over 20 years of experience. Dr. Ballard is offering robotic knee replacement with the ROSA Knee system at Oregon Surgical Institute in Beaverton, OR. Dr. Ballard believes that this new technology will benefit patients with more accurate implant placement, which may provide a higher level of comfort and satisfaction following a knee replacement procedure. If you would like to learn more or schedule a consultation with Dr. Ballard, please call our office at (503) 656-0836.
---
Robotic Knee Replacement Specialists